I can't get enough of British asparagus when it's in season, I'm lucky enough to a have a few growers local to me who produce fantastic asparagus.
This is such an easy yet absolutely delicious egg frittata recipe which I came up with for a farmers market. Ive added my preserved wild garlic (in oil) here, which works well but you could substitute this with a regular fresh pesto for added oomph! The combo of goats cheese, wild garlic and nutty roasted asparagus is always a winner in my book!
Serves 6 as a starter, 4 for a main. Great with a lemony dressed green salad!
Ingredients
7 large eggs (needless to say free range)
1 tbsp cream cheese
2 bunches of asparagus
1/2 log goats cheese
1 tbsp grated Parmesan
Large handful of mint leaves finely chopped
Wild garlic puree (in oil) or a good fresh pesto
Sea salt, pepper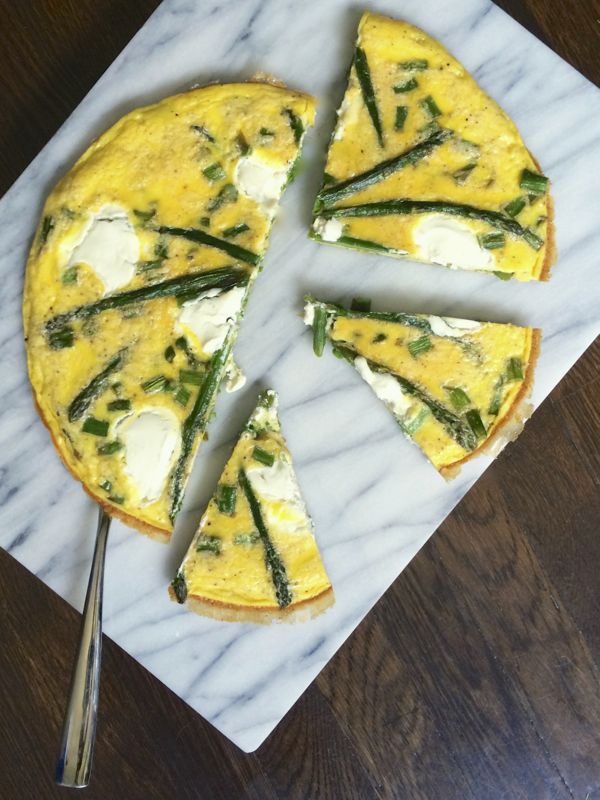 Method
Preheat oven to 180c.
Line the pie / flan tin with a round of non stick baking parchment.
Trim the woody ends off the asparagus, drizzle in oil, season and roast for 20 minutes or until just tender.
Whisk together the eggs and cream cheese, and plenty of seasoning.
Add the grated parmesan and chopped mint.
Pour the egg mixture into the tin, arrange the asparagus spears (you may need to trim again so they fit) dot over the goats cheese and wild garlic.
Bake for 25-30 minutes or until just set.