I've never been a huge fan of beetroot before,especially the mass produced pickled stuff sold in supermarket. However this recipe has converted me, the combination of fresh coconut, curry leaf and beetroot is divine.
These beautifully light and aromatic filo samosas are perfect served alongside your favourite curry, or simply as a light lunch with some raita.
Ingredients
500g beetroot (steamed boiled or roasted the cut into 1cm cubes)
1 fresh coconut grated
1/2 red/green chilli finely chopped
1 heaped tsp of curry leaves finely chopped
2 tsp cumin seed
2tsp mustard seed
pinch cayenne pepper
2 heaped tsp grated ginger
1 tbsp coriander leaves finely chopped
1 pack filo pastry
50g butter melted
sea salt
nigella seeds for sprinkling!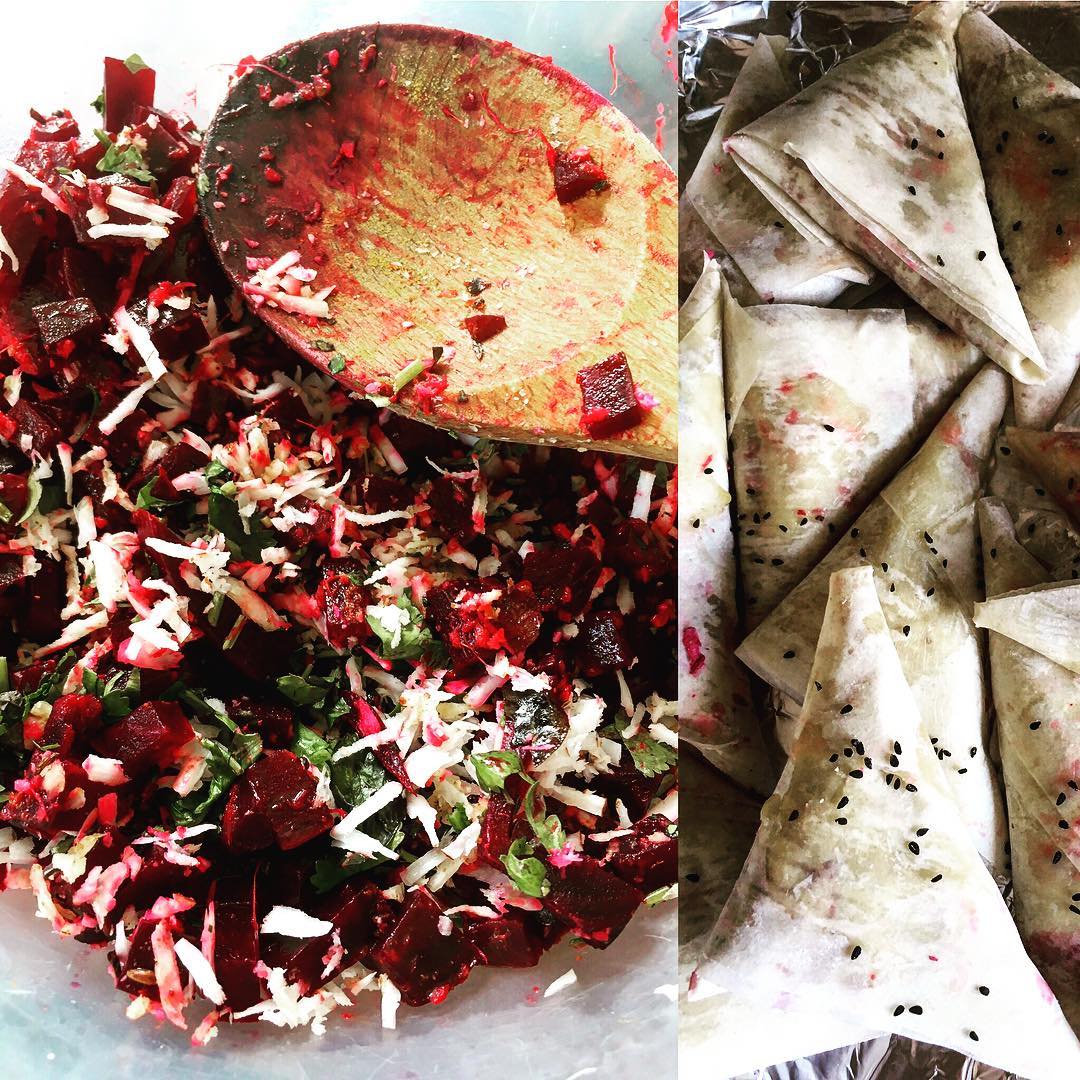 Method
Heat 1 tbsp of oil in a frying pan, fry the mustard and cumin seeds for 30 secs or until fragrant, add the curry leaves and chilli. Fry for a further minute then add the ginger and coconut, fry till slightly toasted.
Add in the beetroot, pepper and some salt to taste, then take off the heat.
Once cool, stir in the chopped coriander.
To assemble cut the filo into long wide strips. Allow 2 strips per samosa, brush each strip with the butter and place on top of each other.
Place 1 tbsp of the beetroot mixture onto the filo, fold over into a triangle to seal then fold over to make samosas.
Brush each samosa with melted butter and sprinkle over nigella seeds.
Place on a lined baking tray and bake at 200c till golden and crisp (20-25 mins)