This recipe is perfect for those long rainy autumnal days, when you fancy staying at home and setting yourself a challenge! For a cheeky shortcut- use ready made custard and jam!
Experiment with flavours-try raspberry and lemon, blackberry and sloe gin (see my recipe), salted caramel (the possibilities are endless!
Ideally cook these doughnuts in a deep fat fryer at 180C , if not use a small saucepan filled with sunflower/rapeseed oil and carefully monitor the heat. Testing with a chunk of bread- you are looking for a sizzle that slowly turns the bread a golden colour. Turn heat down if they are turning a deep dark brown too quickly!
Blackberry Jam
200g blackberries/ berries of your choice
1/2 lemon juiced
200g jam sugar
splash of water
First make your jam, place the fruit and a splash of water in a heavy based saucepan and gently cook for 5 minutes.
Add the lemon juice and sugar and continue cooking slowly for 5 minutes, using the back of a wooden spoon to crush the fruit. Once the sugar is dissolved completely, turn up the heat and boil for 3 minutes or until starting to set (no longer than 4 minutes).
Take off the heat, sieve the jam into a bowl and set aside.
The Doughnuts
Key to success - knead well, use lukewarm warm milk, do not rush the proving!
250g plain white flour
250g strong white flour
2 x 7g instant action yeast sachet
50g caster sugar
10g salt
40g unsalted butter- melted in a pan with 150ml whole milk
130ml water
2 large eggs
caster sugar for rolling
blackberry jam
Combine all of the dry ingredients in a large bowl, make a well in the centre.
Whisk the eggs into the warmed milk and butter, and add the water.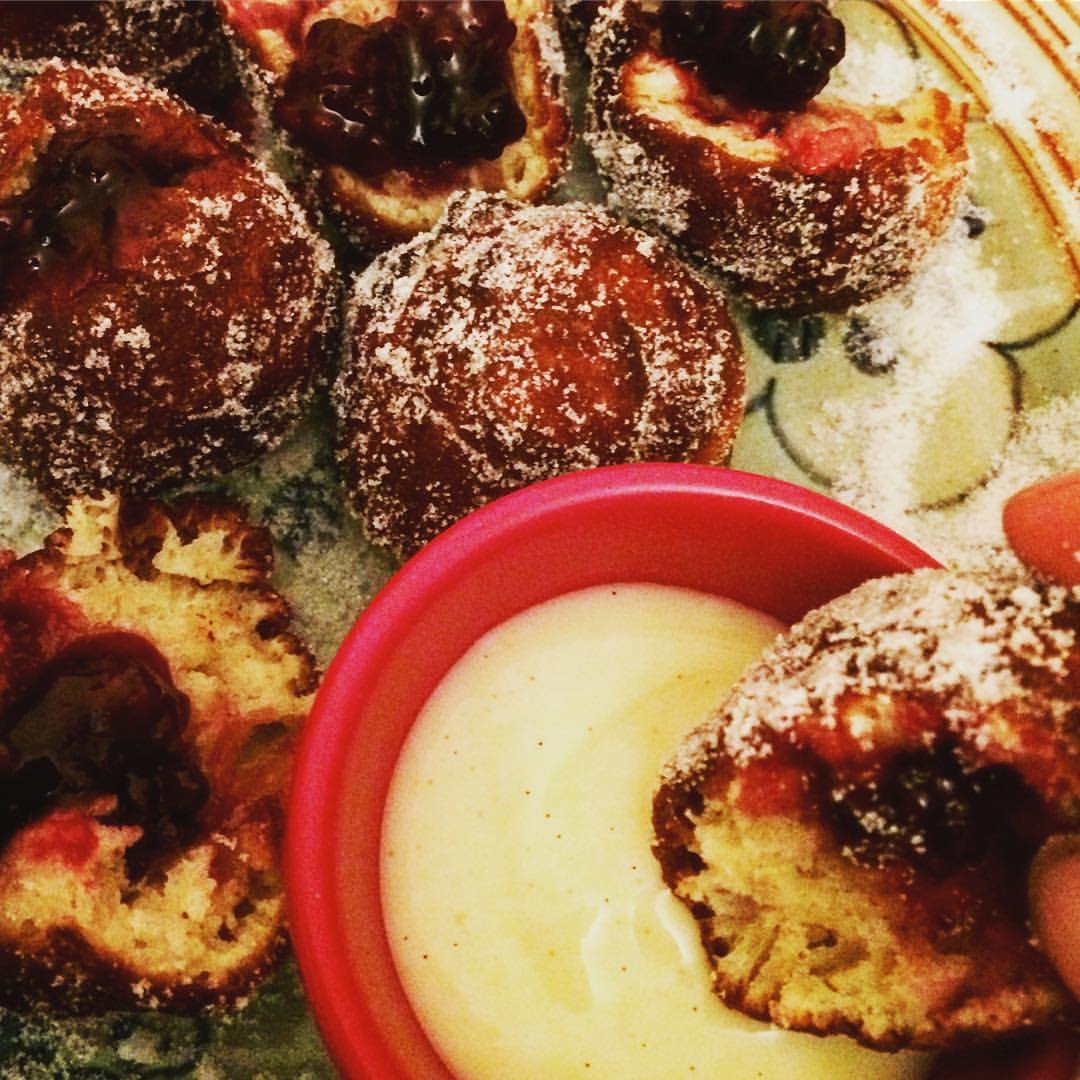 Gradually mix into the flour using a wooden spoon until combined. Using your hands knead the dough in the bowl for 4 minutes. The mixture will feel very sticky but do not add more flour.
Tip onto a lightly floured board and knead for 10 minutes (or 5 minutes in a food processor with a dough hook).
Place in a large clean bowl and cover with a damp tea towel and leave to rise for 1-2 hours or until doubled in size.
Now take the mixture, and knead again for 2 minutes then divide into mini doughnuts.
Place on a floured baking tray , cover and leave for another 30-45 minutes.
Heat a deep fat fryer to 180C or half fill a very small saucepan with sunflower oil . Test with a small piece of bread (its ready when it sizzles and slowly turns golden brown).
Fry the doughnuts for 3 minutes, remove with a slotted spoon. Drain on kitchen roll then immediately roll in sugar!
Using a small nozzle piping bag, pipe 1 tsp jam into each doughnut.
Vanilla custard dipping sauce
200ml cream
500ml whole milk
seeds of 1 vanilla pod or 2tsp vanilla extract
3 tbsp cornflour
4 egg yolks
140g sugar
2 star anise (optional)
Rind of a half a lemon/orange (optional)
Warm the milk, vanilla, star anise and lemon rind and cream in a deep saucepan, then pour into a jug.
Whisk the remaining ingredients in a large bowl, then gradually whisk in the warm milk/cream.
Pour the mixture back into the saucepan and over a low to medium heat, stirring continuously, cook until the custard has thickened.
Remove the rind and star anise and serve in small ramekins for dipping.