The trees are now laden with sweet wild cherries, luckily i caught them early this year as often the wasps get to them first! Be warned though its a messy business and time consuming de-stoning these little cherries - tip: arm yourself with some gloves and an olive de-stoner! I find pickling the best and easiest way to preserve cherries.
Duck and Cherry is of course a classic combination, but rather than making a rich cherry and port/red wine sauce I really wanted to create a light, summery dish using my pickled wild cherries.
Serves 2
Duck
2 Duck Legs
Pinch ground cloves
few sprigs of thyme
1 bay leaf
250ml chicken stock
2 onions quartered
sea salt pepper
For assembly
2 tbsp pickled cherries
4 fresh cherries
1/2 pack Feta
1 pack Watercress
Dressing
1 tbsp balsamic vinegar glaze
1 tsp vinegar from the cherries
1 tbsp rapeseed oil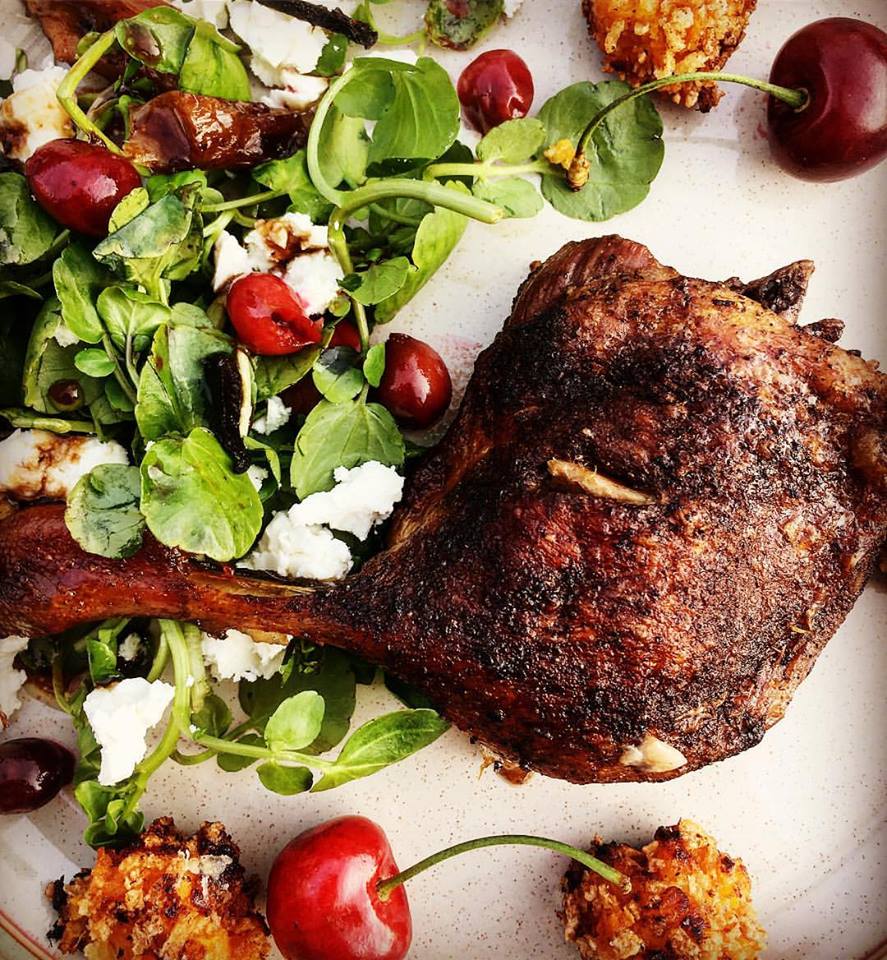 Croquettes
1 small sweet potato cubed
knob of butter
splash chicken stock
1 tbsp panko breadcrumbs
Method
Preheat the oven to 170C. Rub the ground cloves, salt and pepper onto both sides of the duck.
In a small ovenproof frying pan heat 1 tsp of oil and fry the duck skin until crisp, turn over then add the onions and briefly fry. Pour over the stock, thyme, bay.
Cover and place in oven for 1 1/2 hours, basting every so often. Remove the foil then continue to cook for 1/2 an hour or until tender.
Set aside the onions and duck on a plate. Reduce the jus until thickened.
Meanwhile in a small saucepan, sweat the sweet potato in a little butter, add a little stock, seasoning, cover and cook for 10 mins or until tender. Season and mash well.
Place the mash in the fridge for at least an hour till very chilled, then shape into little croquettes. Roll into the breadcrumbs the place back in the fridge for half an hour.
Deep fry the croquettes in a small deep fat fryer till crisp and golden. Remove and place on kitchen paper.
To assemble - de-stone the fresh cherries and place in a salad bowl with the watercress and pickled cherries. Crumble in the feta. Make the vinaigrette by mixing together the ingredients in a jar or glass.
Place the duck leg on top, arrange the croquettes and serve the extra duck jus in a separate jug.