This is THE Ultimate Burger in my opinion. Stacked high with 2 sour cream fried partridge breasts, avocado, chipotle sour cream, bacon jam and griddled lettuce! Don't be stingy with the fillings remember more is more!!
I use sour cream in the marinade - rather than the classic buttermilk as its much more readily available and still has those tenderising properties which makes the partridge nice and juicy!
Makes 2 burgers
2 Brioche burger buns
Marinade
2 tbsp Sour cream
4 Partridge Breasts (skin removed)
2 tsp Jalapeño brine
Crispy Coating
100g flour
1 heaped tsp smoked paprika
1 tsp oregano
1 tsp onion salt
1 tsp chipotle / chilli powder
1 tsp garlic granules
Sea salt and Pepper
Griddled Lettuce
1 Little Gem Lettuce
1 lime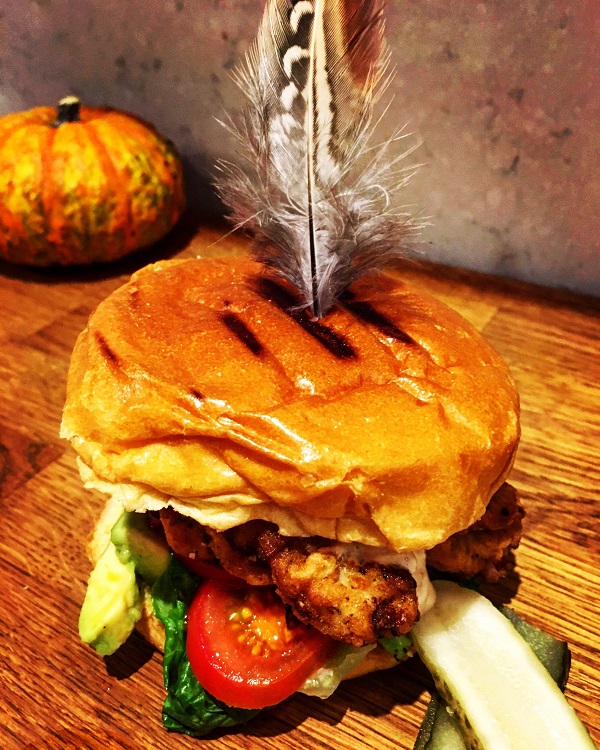 Suggested fillings
1 tbsp of Sour Cream mixed with 1tsp chipotle paste
Avocado
Bacon Jam
Gherkins
2 Tomatoes sliced
Jalapeños
With a rolling pin bash the partridge breasts until they have an even thickness. Marinade the partridge in the sour cream and a splash of jalapeño brine for 3 hours or overnight if possible.
Mix all the spices with the flour, with some salt and pepper then dredge the breasts. Coating each breast evenly in the flour. Set aside and chill.
Meanwhile heat a griddle to a high heat and char the lettuce leaves till blackened at the edges. Set aside and squeeze over a little lime juice and salt.
Heat 200ml of sunflower in a small deep saucepan till very hot, turn down to a medium heat then fry the breasts. You may need to do this 2 at a time to avoid overcrowding the pan.
Each breast should take no longer than 2 minutes - turning halfway through. Remove and place onto kitchen paper to soak up excess oil. Sprinkle with sea salt.
Griddle/Toast your burger buns then get assembling!