Forager's Elderflower Cordial
You don't need to wander far to find bushes laden full of elderflowers in full bloom, Now is the time to get out there foraging and preserve this beautify delicate floral flavour into bottles of elderflower cordial.
Simply top with sparking water or get creative and make your own cocktails with it!
I like mine with slices of lemon, mint, and some bubbles!
Ingredients
Roughly 25 heads of elderflower
450g caster sugar
450g water
2 lemons - zest pared and cut into thin slices
1 tsp citric acid
Lightly rinse the elderflower heads. Using a fork, take the flowers off into a large bowl. You want to avoid too may stalks/ greenery as these will make your cordial taste bitter.
In a saucepan, bring the water and sugar to the boil, constantly stirring and reduce the liquid for 5 minutes till to a light syrup. Take off the heat and add in the lemon zest, lemon slices and citric acid.
Pour the syrup over the elderflowers and lemon slices and leave to infuse overnight or for a good 12 hours then sieve into a jug. If you want a clearer cordial then use a fine muslin cloth.
Pour into a sterilised bottle and store in the fridge.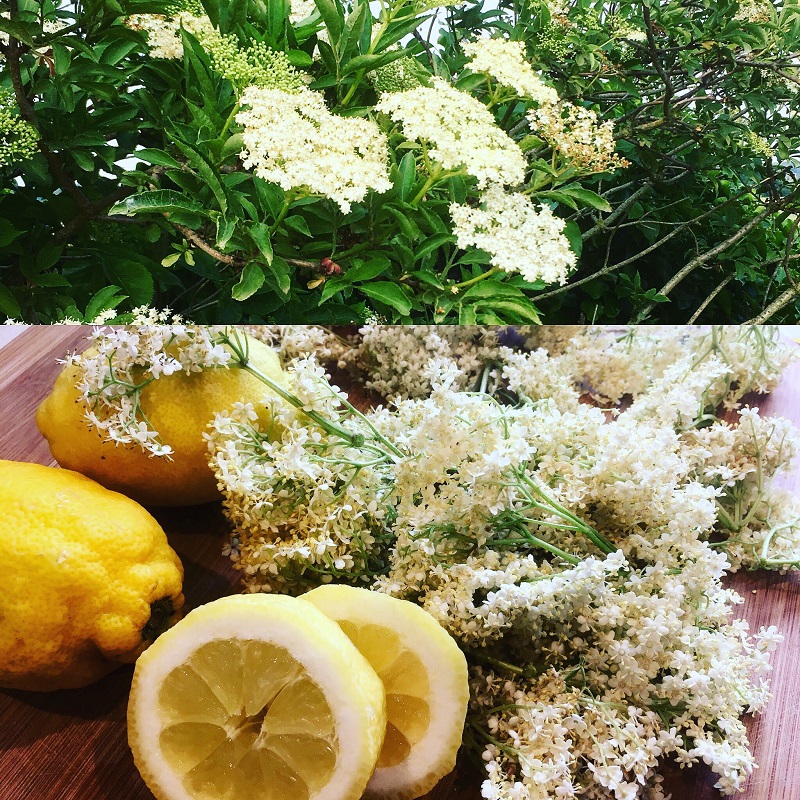 Elderflower Lemon Drizzle Loaf
Delicate, light and quintessentially english flavours in this twist on the classic lemon drizzle cake. A delicious way to use the elderflower cordial.
Ingredients
170g (6oz) margarine / baking spread
170g caster sugar
2 large eggs
100g (6oz) Gluten and wheat-free white self-raising flour
70g rice flour
1 large lemon
1tbsp poppy seeds
For the drizzle:
2 tbsp elderflower cordial
Juice of 1 lemon
1 tbsp caster sugar
Preheat the oven to 170C. Grease and line a loaf tin.
Cream together the sugar and butter together until very light and creamy.
Beat in the eggs, flour, poppy seeds and the juice and zest of 1 lemon until combined.
Spoon the mixture into the loaf tin and bake for 40-50 minutes or until a skewer comes out clean.
Whilst the cake is baking, warm together the drizzle ingredients in a small saucepan and reduce till syrupy.
As soon as the cake comes out of the oven, prick the cake all over with a cocktail stick and drizzle the elderflower syrup over the cake as evenly as possible.