This recipe is inspired by the greek classic spanakopita pie. You could make them smaller and serve as canapés or large as we prefer for lunch to maximise the filling to pastry ratio! You've got to eat these babies while they are still warm and oozy with molten feta. Serve with a fresh lemony dip like tzatziki.
Makes 4 large samosas (serves 2 for lunch)
1 tbsp rapeseed oil
1 small red onion very finely chopped
4 filo pastry sheets - (each cut into 3 strips so 12 strips in total)
1/2 pack of greek feta
2 large handfuls of spinach or wild greens (nettles/sea spinach etc)
1 large handful of wild garlic
1 garlic clove finely sliced
1 tsp cumin seeds
1 heaped tsp of dried dill
1 tsp of sumac (pinch reserved for sprinkling on at the end)
black pepper
knob of salted butter
Courgette & Mint Tzatziki
1/2 yellow/green courgette grated (on large side)
2 tbsp thick greek yoghurt
good squeeze of lemon juice
small handful of mint leaves shredded
pinch sea salt and pepper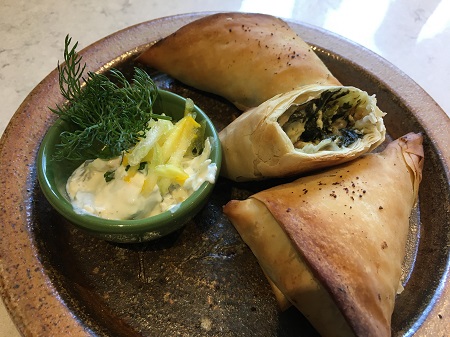 Method
Preheat the oven to 200C Fan. Line a baking tray with non stick baking parchment.
In a large deep frying pan, heat the oil over a medium high heat. Add the cumin seeds and fry briefly till fragrant add the the red onion, garlic clove and a pinch of salt. Lower the heat and fry gently till softened stirring often.
Finely shred the greens and wild garlic and add these to the pan and gently fry for a couple of minutes.
Take off the heat.
Crumble the feta into a large bowl, add the greens mixture, a good grinding of pepper, the dill and sumac. Mix thoroughly.
Melt some butter into a bowl.
With a pastry brush, brush each strip of filo pastry liberally with butter. Lay 3 strips on top of each other, then add a generous tbsp of mixture on one end. Then fold as you would a samosa - fold over into alternate triangles sealing the end with a little more butter. Place onto the baking sheet, brushing with more more butter on top and repeat with the remaining filo strips.
Bake in a very hot oven for 12-15 minutes. I like to glaze them again with butter just before they come out of the oven to give them lovely shine.
Sprinkle with a pinch of sumac and serve warm with tzatziki dip!