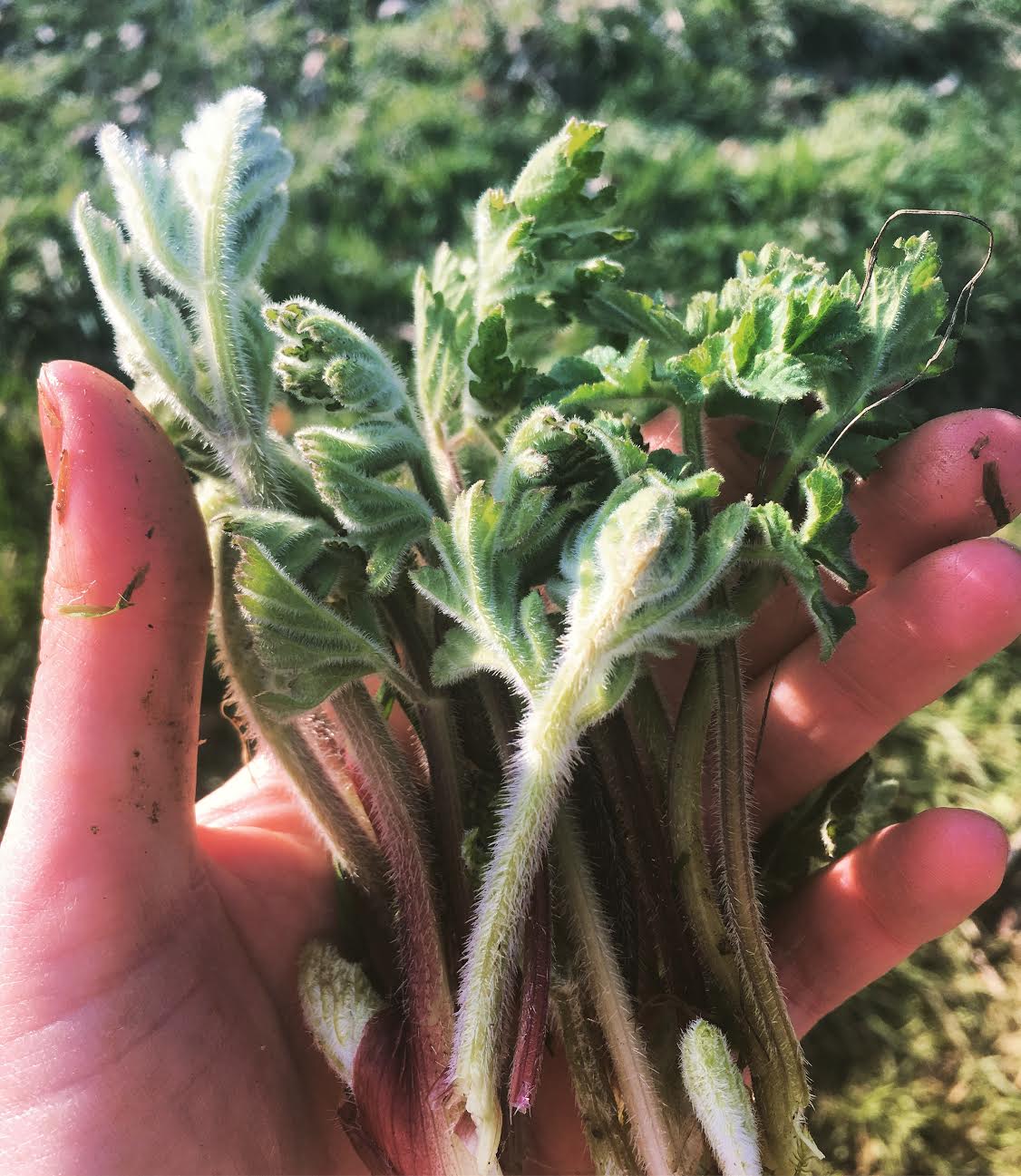 Common Hogweed… what a revelation! This has quite possibly become my most favourite wild edible green ever! The tender young unfurled buds/shoots in Spring are almost asparagus like in texture with a slight aniseed celery/parsley flavour-delicious!!
My first time trying the shoots I blanched them in boiling water for a few seconds to soften the little hairs (found on the stem) then pan fried in salted butter for a mere minute or so, unbelievably moreish I couldn't stop eating them. It is recommended to just try a little at first, which is always sensible with any new foraged discovery as a very small number of people can be allergic (although it is likely only those who suffer with a celery allergy may react).
The green seeds in Autumn have a distinctive orange peel scent and aromatic flavour (some say cardamon but I'm not sure I agree) - great for drying, grinding and using as a versatile spice.
For a while I've avoided this abundant plant, due to the fear of mistaking it for its unpleasant relation-Giant Hogweed, known for its harmful phototoxic sap which can cause severe nasty burns/blisters especially when skin is exposed to sunlight, as well as skin inflammation such as dermatitis. Please note the sap of the common hogweed has a milder but still irritating effect so I strongly advise wearing gloves when picking and handling in the kitchen.
Common Hogweed is a member of the carrot family, notorious for its many poisonous species such as hemlock and water dropwort so its hardly surprising that many do not feel confident picking this underrated green.
This simple tempura recipe is perfect for young common hogweed buds - be sure to pick them as close to eating as you can for maximum freshness and texture. The secret to tempura is making your batter last minute (heat your oil and make sure all your ingredients are to hand before preparing it. Very chilled sparkling water will give you the best result here and do not be tempted to over mix your batter, a few lumps are perfect.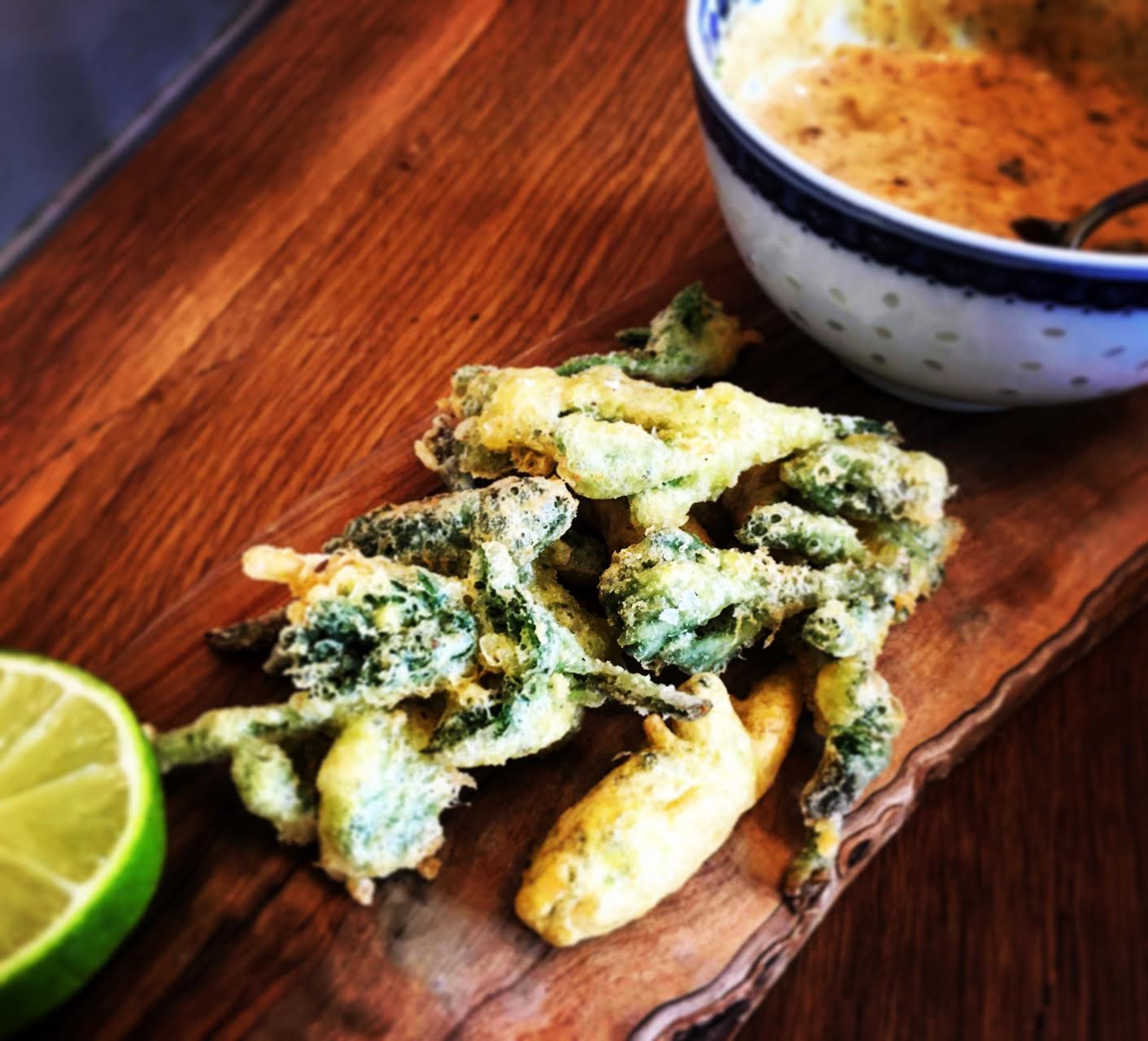 What you will need:
Gloves for picking
2 big handfuls of freshly picked common hogweed buds/unfurled shoots
350ml rapeseed/sunflower oil for frying
flaky sea salt for sprinkling or seaweed salt
Tempura
75g cornflour
75g plain flour
big pinch of salt
1/2 tsp turmeric
175ml-200ml sparking chilled water
1 egg yolk
Curried Mayo
1/2 tsp curry powder
cracked black pepper
2 tbsp mayonnaise
zest and juice of half a lime
1 tsp mango chutney
Method
1. Heat your oil in a medium size heavy pan over a medium/high heat (if you have a thermometer heat to 180c or test with a cube of bread).
2. In a small bowl whisk all of your curried mayo ingredients together and spoon into a small ramekin for serving.
3. Combine the flours, salt and turmeric in a mixing bowl. Spoon out 2 tbsp of the flour mix into a separate shallow bowl for dredging.
4. In a jug whisk the egg yolk with a fork then top with 175ml of the sparking water stirring briefly to combine.
5. Make a deep well in the centre and gradually pour the water/egg into the flour mix, using a fork gently to combine to make a lumpy batter. Do not be tempted to whisk its best to be gentle here and retain as many bubbles as you can. If needed add a splash more water - you are looking for double cream consistency.
6. Working in small batches - carefully dip the hogweed shoots into the excess flour, shake off then immediately dip into the tempura batter, using chopsticks or tongs lower into the oil and fry for 30 secs to 1 minute, turning throughout.
7. Remove onto kitchen roll, sprinkle with flaky salt and repeat. Serve with the curried mayo or a little soy sauce/dashi mix.