An unusual indian style pizza made from chicken of the woods mushroom-a bright yellow firm bracket fungus found commonly on oak trees.
This distinctive mushroom has a similar texture to chicken (hence the name) and can be used in a variety of dishes.
For further info on how to identify this mushroom
TIP: Pick this mushroom early – avoid the older looking tough specimens. Trust your instincts, if it feels dry and tough if will most likely be the same to eat!
Naan Chicken of The Woods Pizza
Makes 4 Mini Pizzas
4 mini naan breads
paneer cheese (indian cheese) cubed
1 red onion sliced very thinly
4 tsp mango chutney
fresh coriander
Tomato sauce
1/2 carton passata
1 small red onion finely chopped
1 clove garlic crushed
2cm ginger grated
pinch salt
Chicken Tikka
100g chicken of woods
1 tbsp tomato puree
2 cloves garlic crushed
small thumb size ginger grated
1 tsp tikka curry powder
1 tsp turmeric
pinch sea salt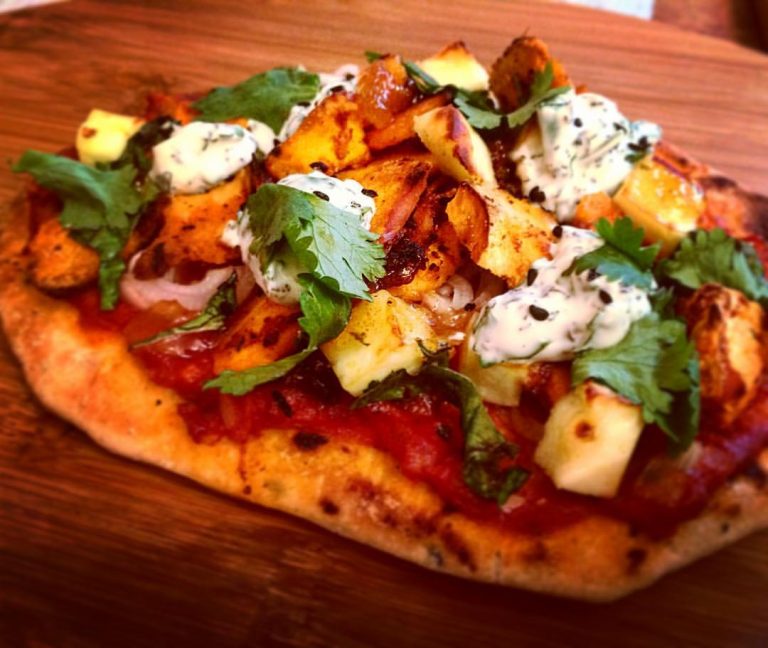 Raita
2 tbsp yoghurt
1 tsp fresh mint finely chopped
1 tsp fresh coriander finely chopped
pinch sugar
Clean the mushroom well and slice very thinly. Mix together the tomato puree, garlic,ginger and spices and add the mushroom.
Leave to marinade, whilst you make the tomato sauce.
Heat 1 tbsp oil in a saucepan and cook the onion gently over a low heat , after 2 minutes add the ginger and garlic.
Add the passata and cook till the sauce is thickened.
Make your raita- by combining the yoghurt, sugar, mint and coriander.
Cook your mushrooms, by heating a large knob of butter in a frying pan over a medium heat and fry the mushroom slowly for 3-5 minutes stirring often.
Preheat the grill to high (or if using an oven 200C). Place a baking tray in the oven to preheat.
Assemble your naan bread - spread over just enough tomato sauce to lightly cover the base.
Add the red onions followed by the tikka mushroom slices and paneer cheese.
Spoon over 1 tsp mango chutney
Place the pizza on the baking tray and grill/bake for 2-4 minutes (until crisp)
Finish by drizzling over the yoghurt raita and fresh coriander leaves.