I have long been obsessed with gyozas, these tasty little Japanese style dumplings are packed with flavour. Be generous with seasoning and serve with a punchy dip and pickles. I like to make my own chilli oil with a generous dose of gocujang (fermented soy bean).
Warning - do not assemble day ahead unless you plan on freezing them!
Makes about 15
For the gyoza skins
50g plain white flour, plus extra for rolling
50g strong bread flour
Pinch of sea salt
50ml boiling water
1 tbsp vegetable oil, for frying
1 tbsp sesame oil
Pheasant and Wild Garlic filling
150g pheasant breast roughly diced
100g wild garlic finely chopped
1 chestnut mushroom finely diced
1 tsp grated ginger
1 small celery stick finely diced
1 scant tsp sesame oil
1 half tbsp good quality soy sauce
Shichimi (japanese 7 spice) to sprinkle
Chilli oil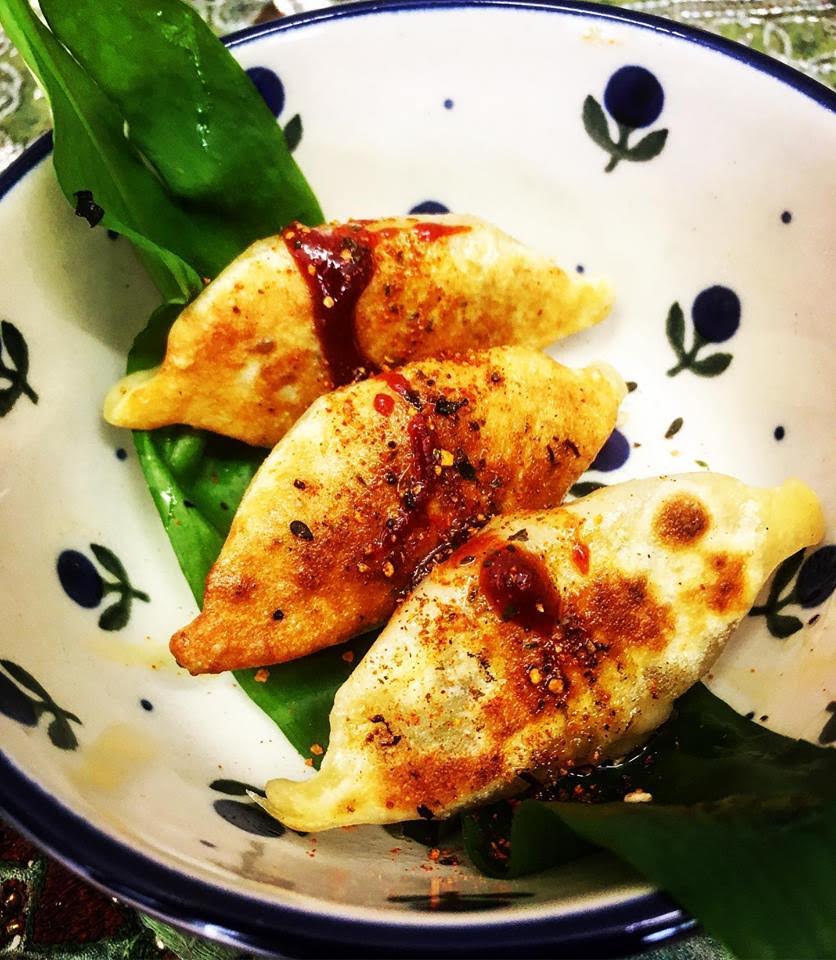 Method
To make the gyoza skin. Combine the flours, salt, sesame oil and water in a bowl, mix with a fork till resembles a crumble mixture. Bring together with your hands to make a dough and knead for 2 minutes. Wrap in cling film and set aside in the fridge till chilled.
When ready to use, knead the ball of dough onto a lightly floured surface for 1 more minute. Using a rolling pin, roll the mix out thinly (till almost transparent) and use a cutter to cut out 5cm circles.
For the filling, whizz the pheasant breasts up in a small food processor till finely minced.
In a small frying pan, gently fry the wild garlic for 1 minute with a drizzle of oil. Add to the pheasant mix along with the rest of the ingredients. Grind in some black pepper and mix well.
Brush each circle with a little oil, and place 1 tsp of pheasant mixture in the centre. Using your fingers gently bring in the edges together to form a little pasty like shape. Press the edges together and crimp to secure.
In a steamer, steam the gyoza for 3 minutes. Meanwhile heat 1 tbsp of oil in a frying pan, transfer the gyoza to the pan and fry the flat side for 2 minutes until nicely crisp.
Serve immediately with a sprinkle of shichimi and drizzle of chilli oil.