It's that time of year again, when the leaves are falling and the ground is scattered with a bumper crop of acorns and chestnuts. Time to get picking, but be quick before the squirrels eat them all!
This is an impressive yet easy dish to create for special occasions. Get ahead and make the pasta a few hours beforehand. Also works well with partridge or chicken, serve with buttered greens.
Serves 4
Quick pasta recipe
400g 00 flour
4 large eggs beaten
2 tsp olive oil
pinch sea salt
Put your flour into a large bowl, make a well in the centre and stir in the eggs, salt and oil. Incorporate till thoroughly mixed. Knead for 5 minutes or until smooth. Cover with cling film.
Pheasant filling
4 pheasant breasts cleaned trimmed, sinew removed
1 large egg white
double cream
sea salt and pepper
50g chestnuts cooked, peeled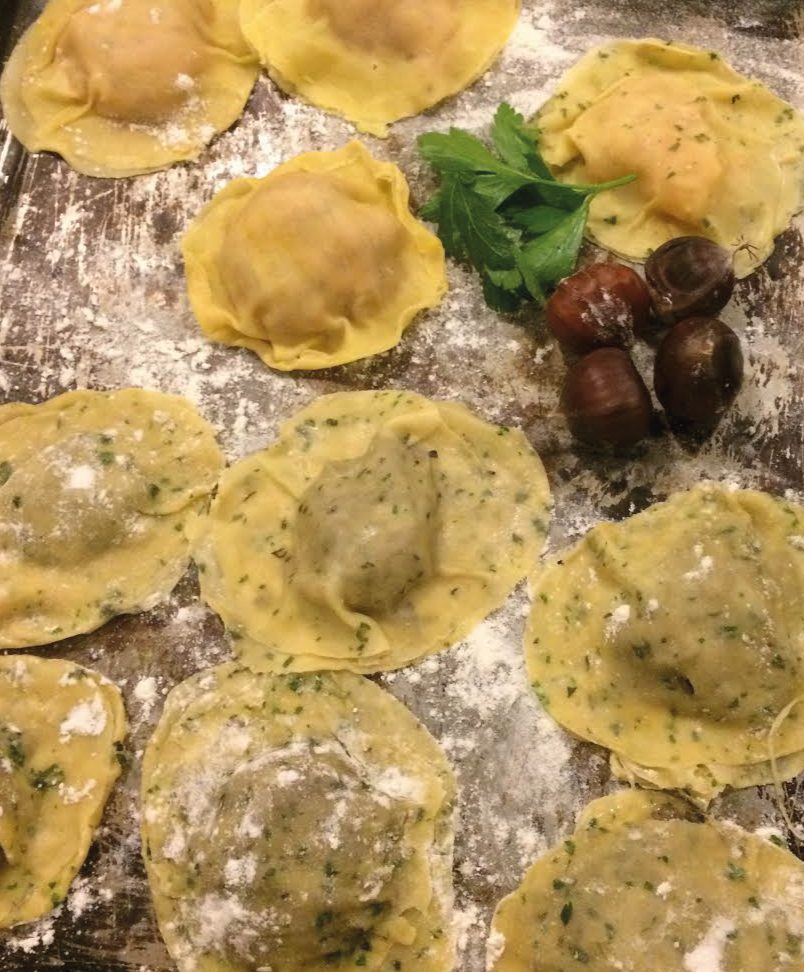 Chestnut leek cream sauce
100g chestnuts roughly chopped
knob of salted butter
100ml chicken stock
25ml double cream
1 large leek finely chopped
1 shallot finely chopped
1 clove garlic crushed
1 tbsp parsley /chives/ chervil chopped
Make your pasta, allow to rest for at least half an hour, roll thinly and cut into 10cm circles. Whizz 2 of the breasts, egg white, a dash of cream and a good amount of seasoning in a food processor till mousse like. Finely dice the rest of the pheasant breast and 50g chestnut and mix together into the mousse.
Moisten the edges of half pasta circles , Place a spoonful of the mixture onto a circle of pasta, and cover with another round , press the edges together to form a ravioli shape. Cook in boiling salted water till translucent, around 5 minutes. Meanwhile make your sauce, melt the butter in a saucepan and slowly soften the shallot and leek with a pinch of salt. Once soft, add the chopped garlic and fry for a further minute.
Pour in the stock and cream, add the chestnuts and simmer till thickened. Transfer into a food processor and whizz till smooth. Serve over the ravioli. Sprinkle with chopped herbs.