Yes it is that time of year again, wild garlic season. It seems to come earlier and earlier every year and I'm always trying to come up with new ways to use it.
My first supper club last week was the perfect opportunity to get creative and come up with a new recipe to impress my guests.This recipe is simple but looks impressive - the key is to not overpower the pheasant with the strong wild garlic flavour - a little goes a long way!
Makes 4 little sausages
2 Pheasant breasts - sinew removed
50ml Double cream
Splash of madiera wine or port
4 leaves Wild Garlic
Little handful of parsley (optional)
Pinch Sea salt and 1 tsp Pepper to taste
4 slices Prosciutto or similar air dried ham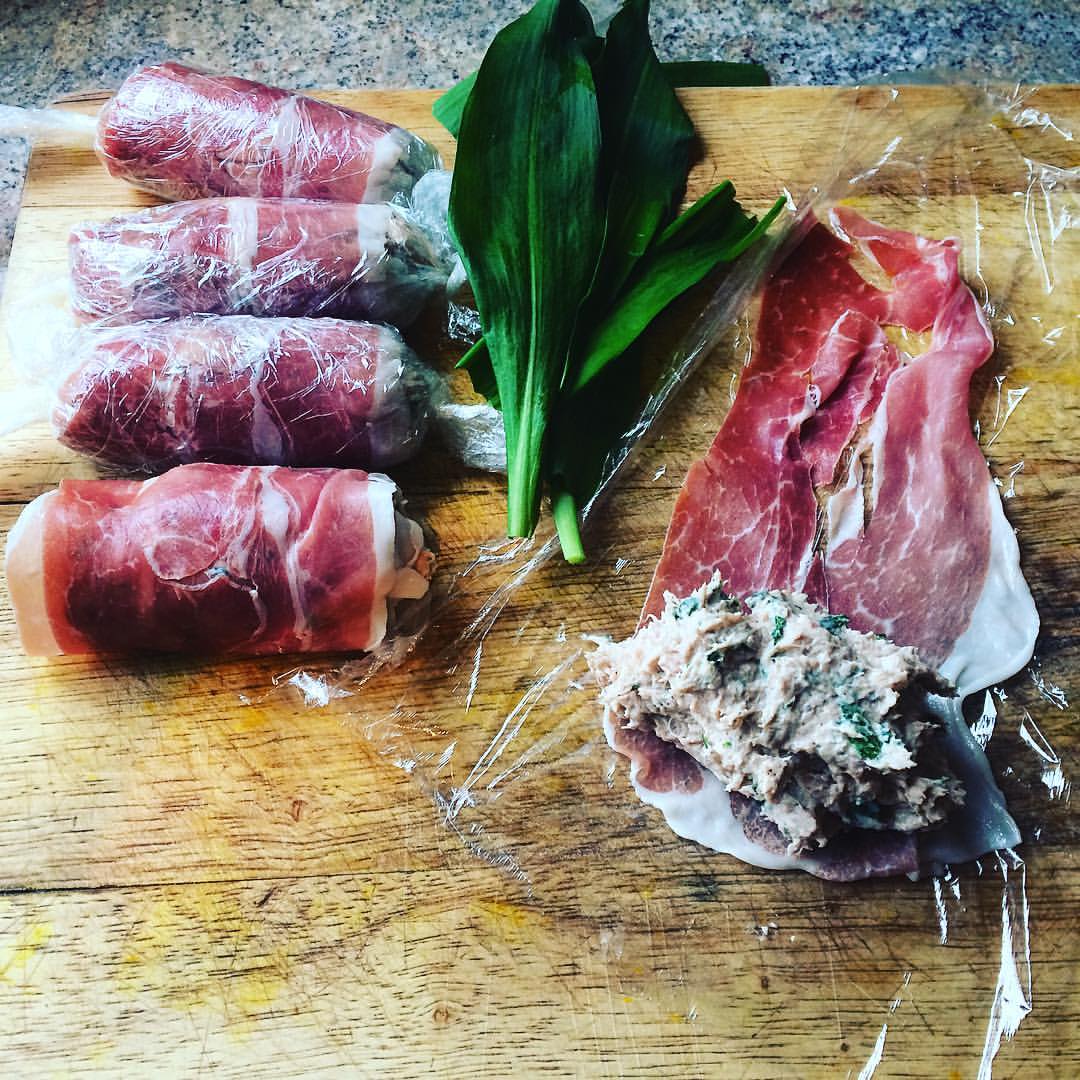 Simply whizz the pheasant breasts for 10 secs in a food processor, then add the cream, madeira, garlic and seasoning and whizz again briefly till smooth.
TIP: Fry a little of the mixture to test the seasoning, adjust if neccesary.
Carefully lay out the prosciutto slices onto a sheet of cling film, on a chopping board, add a tablespoon of the mixture along the top and roll up tightly. Twist the ends tightly to make into sausage shapes.
In a pan of simmering water, gently cook the sausages for 10 minutes then remove with tongs.Once cool, transfer to the fridge till ready to cook.
When ready to serve, remove the clingfilm, heat 1 tbsp olive oil in a frying pan and fry over a high heat till crisp and golden on all sides. Cut on the diagonal and serve! Simples!