A lovely autumnal salad of rich earthy flavours complimented with the sweet sharpness of my pickled blackberries (see post - Fruity vinegars).
Serves 4 as a light starter
Ingredients
4 Wood Pigeon breasts
4 rashers smoked streaky bacon finely chopped
2 fat garlic cloves
8 juniper berries crushed
2 tsp thyme leaves roughly chopped
50g Hazelnuts
rapeseed oil
bag Rocket Leaves
flat Leaf Parsley
pickled blackberries (see fruity vinegars post)
Dressing
2 tsp dijon mustard
2 tbsp vinegar from blackberries (or red wine vinegar)
2 tbsp rapeseed oil
pinch of smoked sea salt
freshly cracked pepper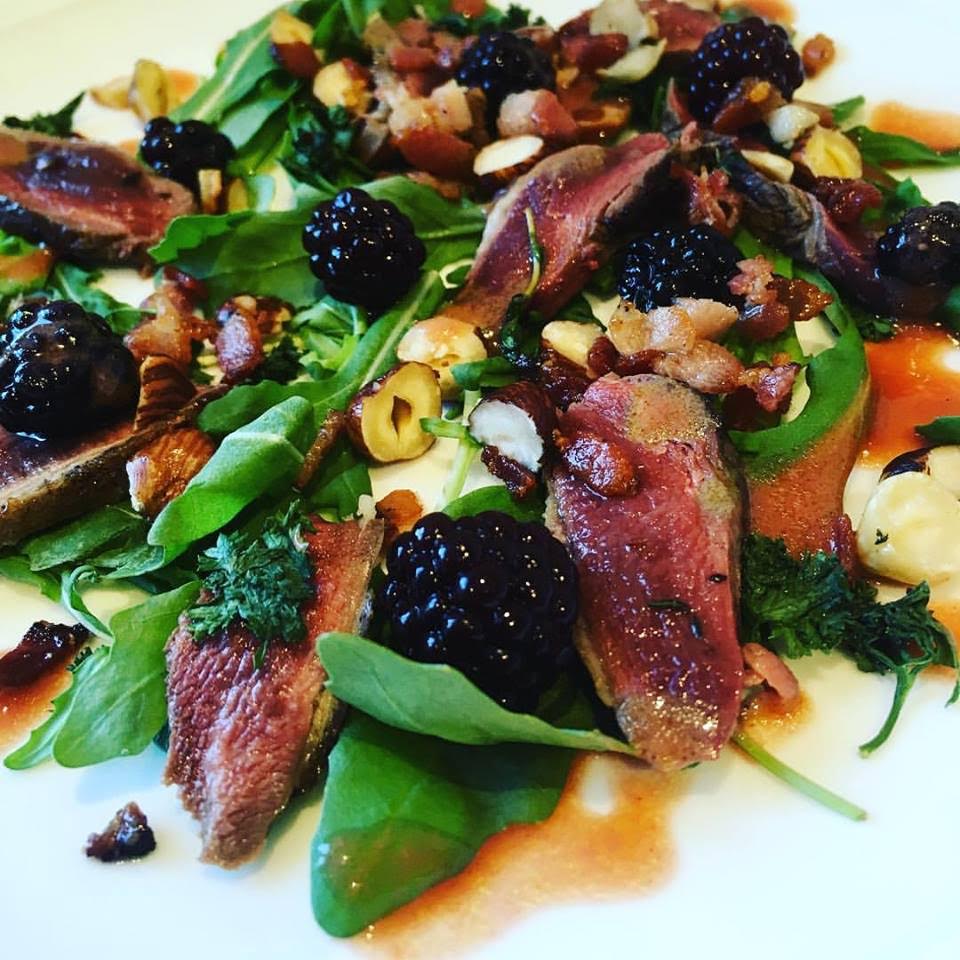 Method
Marinade the pigeon breasts for a few hours before cooking, with juniper, garlic, thyme and a little oil.
Get a frying pan on a medium high heat and toast the hazelnuts untill golden. Halve them and set aside.
Heat 1 tbsp oil in the pan and fry the bacon untill golden and crisp. Remove and drain on kitchen paper.
Season the pigeon breasts, then in the same pan, fry the pigeon for 2-3 minutes on each side, remove and allow to rest for a few minutes before slicing.
Combine the dressing ingredients and whisk well.
To plate - arrange the rocket and parsley leaves on the plate, top with pigeon breast and a few pickled blackberries on each plate. Finish with toasted hazelnuts, bacon bits and a drizzle of the dressing.