A relaxed Middle Eastern inspired dish full of fresh summery flavours. I like to use foraged wild cherries when they are in season.
This is such an easy yet absolutely delicious egg frittata recipe which I came up with for a farmers market. Ive added my preserved wild garlic (in oil) here, which works well but you could substitute this with a regular fresh pesto for added oomph! The combo of goats cheese, wild garlic and nutty roasted asparagus is always a winner in my book!
Serves 4
4 wood pigeon fillets
Marinade
2 tbsp Pomegrante Molasses
Dash of Red Wine vinegar
1 tbsp Olive Oil
Sea salt flakes & Pepper
Pistachio Dukkah
70g pistachios toasted
3 tbsp coriander seed toasted
4 tbps cumin seed toasted
3 tbsp sesame seeds toasted
1 tbps nigella seeds
Sea Salt to taste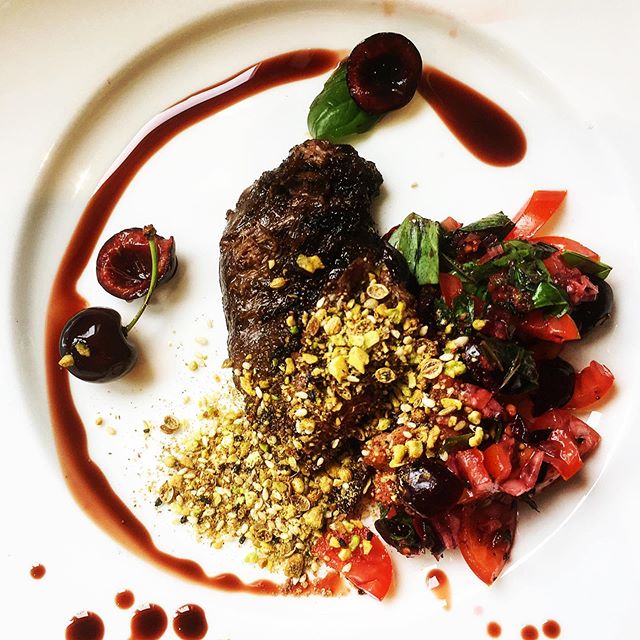 Cherry Salsa
Punnet Fresh Cherries (Half halved, half roughly chopped)
Punnet Mixed Colour Baby Tomatoes roughly chopped
Juice of 1 Lime
2-3 Pickled Green Chilies finely chopped (to taste)
2 tsp Sumac
Half Red Onion very finely chopped
1 fat clove garlic crushed
Handful of Basil and Mint roughly chopped
Drizzle of Rapeseed Oil
Good pinch of sea salt
Method
Bash the pigeon out with a rolling pin till flattened out – this will allow a more even cooking timePlace the marinade ingredients (minus the salt) and pigeon into a zip lock bag and marinade overnight.
For the pistachio dukkah blend all of the ingredients in a small processor (or pestle and mortar) till roughly ground. Add salt to taste. Set aside for later.
For the salsa, placea lightly oiled griddle pan onto a medium- high heat and char the halved cherries. Turning over halfway. Combine the rest of the salsa ingredients and stir in the charred cherries.
Remove the pigeon from the marinade and set marinade aside for later. Season well with salt and pepper. (If needed blot the pigeon breasts onto kitchen roll to remove excess marinade)
In a frying pan, heat 1 tbsp of oil over a high heat and fry the the pigeon breasts for 1-2 minutes on each side.
Remove the breasts using tongs onto a plate, turn down the heat and add the marinade. Allow to reduce for a minute or so until syrupy. Pour over the cooking juices.
Serve the pigeon with the cherry salsa and sprinkle over the dukkah generously