The Quince - the queen of autumnal fruits. Many people only use quince for making the classic jelly however its so versatile and just delicious in so many savoury and sweet dishes. That heady fragrant aroma when you bake or poach it is heavenly!
We like to use the quince cordial below and add it to homemade cocktails/mocktails i.e my infamous 'The Fresh Quince of Bel Air'! Try it topped up with Processco to make a really elegant aperitif!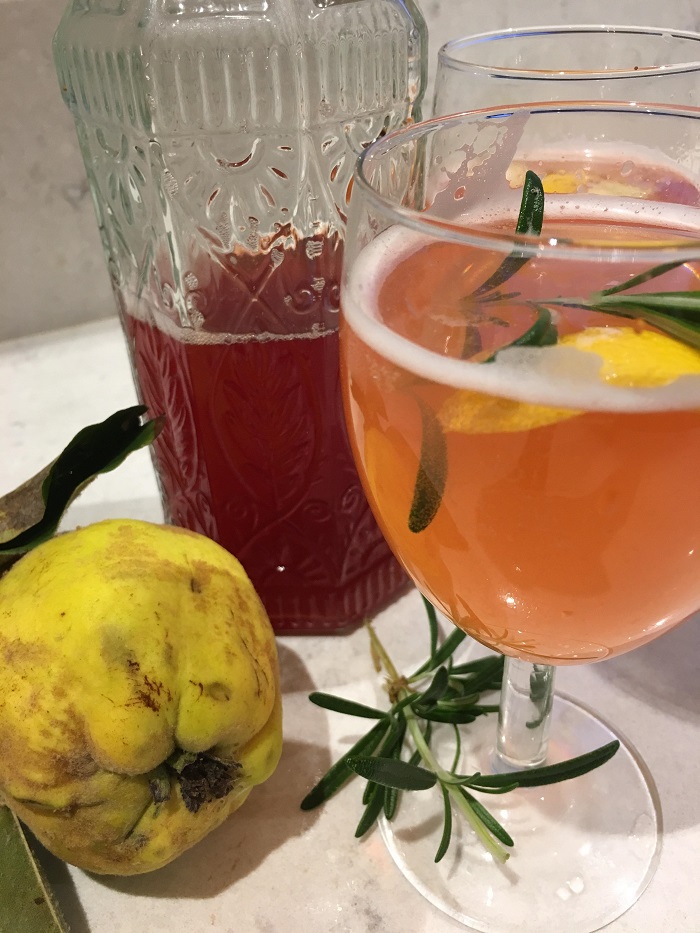 Quince Cordial
12 Whole Quince, cleaned (use a dry scourer to remove the fluff)
300g caster sugar
600ml water
1 tsp citric acid
Preheat the oven to 160C. Tightly pack the quince into a deep roasting tray, sprinkle with the sugar, pour in the water and cover loosely wth foil.Bake for 2-3 hours or until tender. You should be left with a deep ruby juice in the bottom. Reserve 4 of the whole quince.
Strain into a jug, pushing the quince through the sieve to extract as much juice as possible.
Pour into a saucepan, bring to the boil then simmer for around 10 mins until reduced and syrupy. Taste and add more sugar if necessary.
Stir in the citric acid then pour into a sterilised bottle.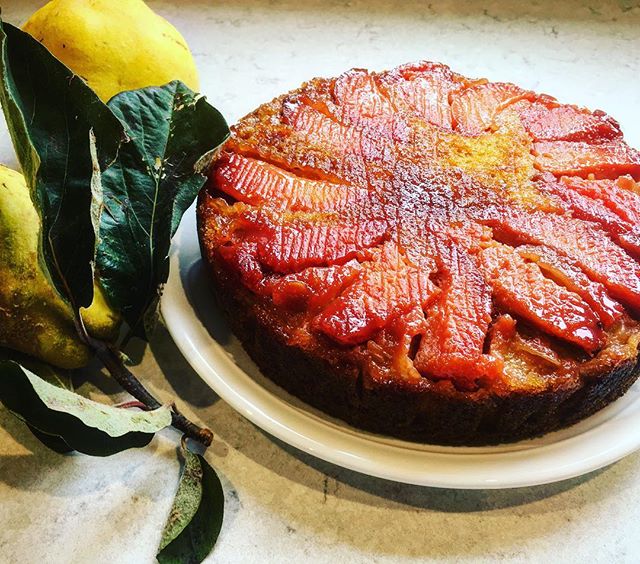 Quince Honey Vanilla Almond Cake
4 poached quince (see above) peeled,cored and sliced into segments
50g honey plus 2 tbsp
150g caster sugar
150g self raising flour
200g butter
50g flaked almonds
3 large eggs
1 tsp vanilla bean extract (use the good stuff!)
Grease and line a cake tin with baking parchment.
In the base of the tin, swirl in 2 tbsp of honey then arrange the quince slices in a circle. Spoon over 1tbsp of the quince cordial/syrup.
Cream together the butter, vanilla, honey and sugar with an electric whisk. Then add the eggs one at a time.
Sieve in the flour and add the almonds. Loosen the mixture with 1tbsp of milk and stir well to combine.
Pour the mixture on top of the quince slices and smooth over.
Bake for 45 mins-1 hour. Check after 30 mins and cover with foil if the cake is browning too much.
Allow to cool then turn the cake out onto a plate.