Sea Buckthorn has an unusual citrusy tart flavour and is perfect combined with orange flavours in this homemade curd recipe. I like to use small eggs as i find the yolks to be deeper in colour which makes for a richer curd! Sea buckthorn is used widely in Russia to make a nutritious herbal tea as the berry is known for its health benefits however it is still a relatively unknown ingredient here in the UK. It can be used in a wide variety of dishes and in place of lemon in recipes.
Makes 1 400ml jar
Ingredients
200g sea buckthorn berries
100ml water
1 Orange (zest pared into strips and juiced)
100g caster sugar
4 small eggs
80g unsalted butter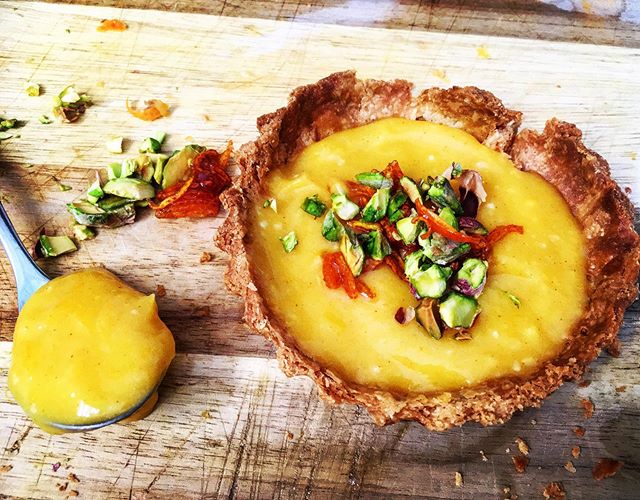 Method
In a small saucepan place the berries, orange zest and water over a medium heat. Simmer for 3-4 minutes until starting to break down, use the back of wooden spoon/fork to crush the berries.
Take off the heat and add the orange juice. Strain the liquid into a jug.
Place a glass bowl over a pan of simmering water. Add the rest of the ingredients and the majority of the strained juice (reserve 25ml for later) . Whisk continuously for around 10-12 minutes or until thickened and curd like. The curd will continue to thicken when cooling. If the curd becomes too thick add the extra buckthorn juice at the end. Allow to cool and refrigerate.
TIP - I like to serve the curd into sweet pastry tart shells, and top with chopped pistachios and candied orange zest.