With the hedgerows brimming with blackberries now, what better way to use them than alongside this beautiful venison dish.
This is such an easy yet absolutely delicious egg frittata recipe which I came up with for a farmers market. I've added my preserved wild garlic (in oil) here, which works well but you could substitute this with a regular fresh pesto for added oomph! The combo of goats cheese, wild garlic and nutty roasted asparagus is always a winner in my book!
Serves 2
Ingredients
2x venison medallions
50g blackberries (reserve 10g)
1 shallot
1 bay leaf torn
2 tbsp balsamic vinegar
1 tsp corn flour
2 tsp quince jelly
200ml red wine
200ml beef stock
salt and pepper
Celeriac crisps
20g celeraic thinly peeled into strips (with a Y veg peeler)
rapeseed oil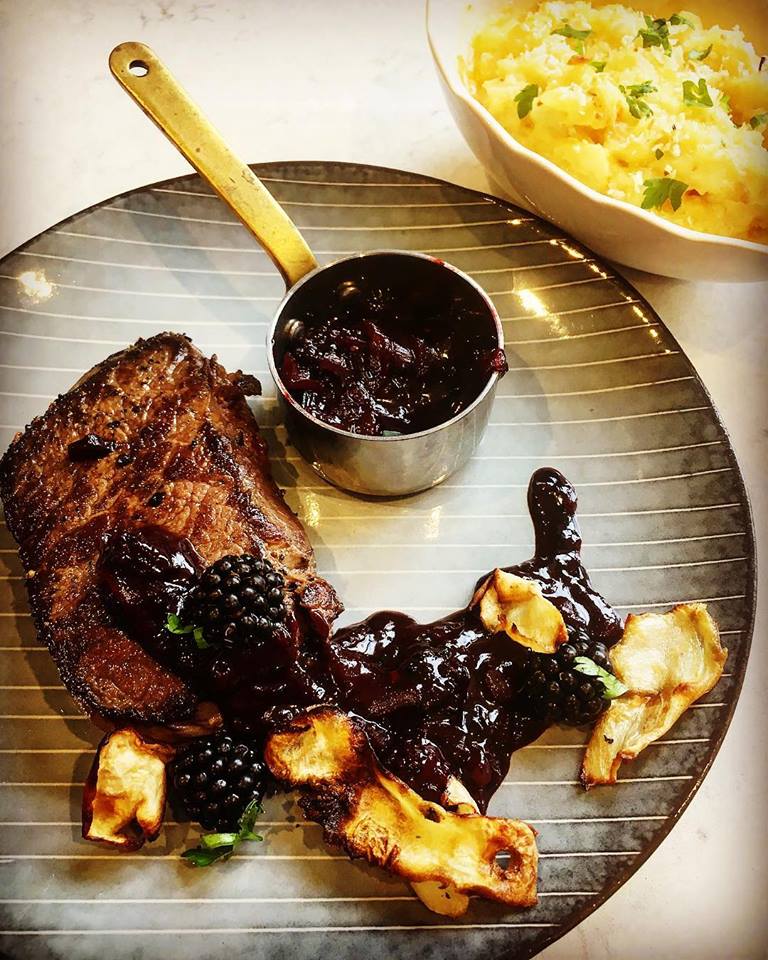 Method
In a small frying pan, heat 1 tbsp of oil over a high heat. Fry the celeraic in the oil for 1 min on each side or until crisp. Remove onto kitchen paper, then keep warm in a low oven.
Wipe out the pan, then heat 1 tbsp of oil over a medium high heat. Season the venison steaks liberally and fry for 2-3 mins on each side.
Set aside to rest while you make the sauce. Turn the heat down and gently sweat the shallot in the fat for 5 minutes, adding a knob of butter and a pinch of salt. Stir in the quince jelly and vinegar and bubble for 1 min. Stir in the cornflour followed by the red wine and stock. Add the blackberries and bay leaf and reduce the sauce till thickened.
Serve alongside the venison with the remaining blackberries, celeriac crisps and baked celeraic mash (recipe below).
Baked Celeriac Mash
Half a celeriac cubed
1 garlic clove
Splash of milk
Vegetable stock
Knob of unsalted butter
1 Bay leaf torn
Handful of Panko Breadcrumbs
1 tsp thyme leaves
In a medium sized pan, melt the butter and gently fry the celeriac for a minute. Add the bay leaf, garlic, a pinch of salt, splash of milk and just enough stock to cover the celeriac. Cover and gently cook until soft. Drain the liquid into a jug. Mash, season well with salt and pepper, adding enough of the reserved liquid till a creamy consistency.
Preheat the oven to 200C/180 fan Spoon into an ovenproof dish, sprinkle with panko breadcrumbs, thyme and dot over some butter. Bake for 10 minutes then serve.