Wild cherries are in abundance right now here on the farm, and I've been scratching my head into how i could incorporate these into a savoury pie for my weekly pop up restaurant - Mash up Sundays at The Waiting Room. Being wild, the cherries do vastly vary in sweetness, so do have a taste and add a little more sugar if necessary!
Cherries are usually a natural partner to duck, but i thought i'd give venison a try as I had some muntjac front legs in the freezer. Front legs are usually the last cut to be used as they are the most sinewy, so I often dismiss them as difficult to cook with. In fact these were probably the best cut to use this dish, a long slow braise in stock, resulted in a melt in the mouth texture.
This dish is really comforting and autumnal, its very rich and goes perfectly with a creamy polenta mash and dark iron rich greens. Smokey, sweet and delicious!
If you're reading this and your'e thinking; hang on chocolate with venison… surely not! Be adventurous, the Mexicans have been using chocolate in savoury dishes for years, trust me it works well in enhancing the stew.
COOKS NOTE: Use the highest percentage of dark chocolate (80% cocoa minumum) you can get your hands on, certainly not bournville!
Serves 4 - 6
STAGE ONE: The meat
If you prefer get ahead and do this the evening before.
1kg Venison on the bone (I used front legs but the more meaty back legs will work just as well)
1- 2 litres Beef or game stock (I haven't given at exact measurement as it depends how big the cut is and your stockpot)
1 orange zested
8 peppercorns
sea salt
sprig of thyme and 2 bay leaves
Cover the venison in stock till completely submerged, add all flavourings and slowly bring to a rapid simmer. Lower to a gentle simmer, cover and cook for 2 and a half – 3 and a half hours, till very tender, almost falling off the bone.
Flake the meat into a bowl and set aside.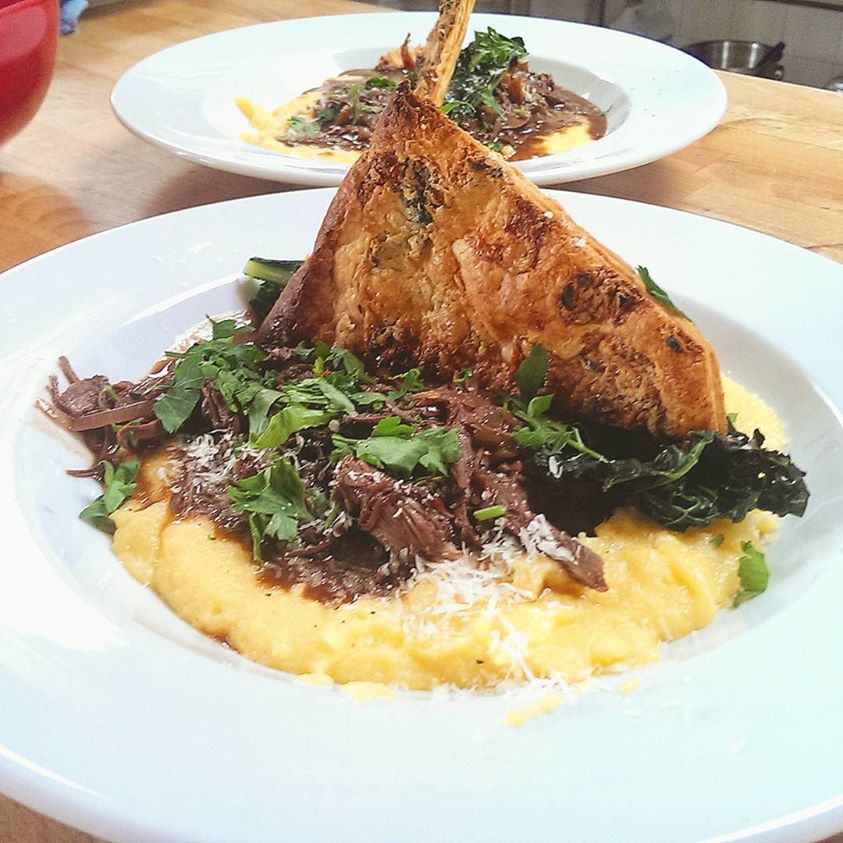 STAGE 2: The sauce
2 rashers of smoked bacon, or pancetta, cut into ¼ - inch pieces
3 white onion, thickly sliced
2 sticks of celery, thinly sliced
2 anchovy filets, finely minced
2 carrots, finely diced
3 cloves fat garlic, finely minced
1 tsp allspice
pinch ground nutmeg
1 bay leaf
sprig of thyme
1 tablespoon of wild cherry sauce - (make your own: big handful of cherries simmered with star anise, a splash of red wine vinegar, sugar to taste then sieved to remove stones)
2 tbsp orange juice
2 tbsp balsamic vinegar
3 pieces of chocolate (50g ish)
half bottle of merlot wine
3 tbsp plain flour
sea salt and pepper
caster sugar to taste
Sauté the bacon in olive oil, set aside on a plate. Sauté the onion for 15 minutes, add the garlic and fry for a few more minutes.
Add the allspice and cinnamon, then the flour, stir in well. Add the remaining vegetables.
Pour in the wine, and simmer for a few minutes to evaporate off the alcohol.
Add the orange juice,vinegar, herbs, anchovies, chocolate, 2 tsp sugar and return the bacon to the pan. Season with a good pinch of sea salt and grinding of black pepper.
Simmer for at least an hour or until the till vegetables are tender. Add a splash of stock if it gets dry. Add the flaked venison and cook for a further 15 minutes.
The most important stage is to taste. Does it need more seasoning or sugar? If so add a tsp at a time, taste and add accordingly.
Serve with polenta mash, or creamy mashed potatoes. If you're feeling flash add a shard of blue cheese puff pastry, a posher alternative to a traditional pastry lid (see below).
STAGE 3: Blue cheese pastry shard
pack of ready rolled pastry
50g parmesan
50g soft blue cheese crumbled
Unroll pastry, and lay flat onto a lined baking sheet.
Crumble blue cheese and shave parmesan cheese on top of the pastry.
Bake at 180c for 20-25 mins till golden.
Allow to cool slightly, cut into triangles.