A light, fresh, vibrant Vietnamese inspired salad that's easy to prepare with minimal cooking. It's all in the preparation!
A perfect balance of sweet, sour and salty with sweetness from the papaya, sour from the lime juice and salt from the peanuts!
Serves 2
2 venison haunch steaks (roughly 150g each)
Marinade
2 fat garlic cloves
Half red chilli
1 lemongrass stick chopped
2cm Ginger grated
1 tbsp dark Soy sauce
1 tsp Sesame oil
1 tbsp Fish sauce
1/2 tsp cayenne pepper
1 tsp Five spice
Salad
1 ripe papaya peeled, de-seeded
1 large courgette
Handful each of mint coriander and basil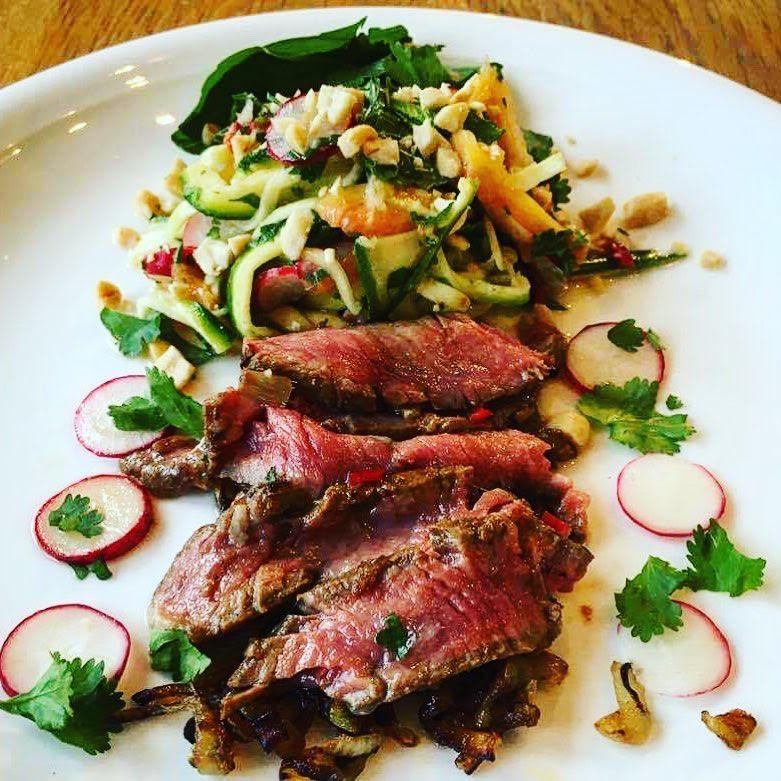 Dressing
1 tbsp Fish sauce
1 Lime zested and juiced
1tsp - 2tsp caster sugar
1 Garlic clove crushed
1/2 red chilli finely chopped
Garnish
2 handfuls of chopped peanuts
4 fried shallots
Basil, Mint, Coriander finely chopped
2 radish finely sliced
Begin by making your marinade. You can either use a small food processor or pestle mortar to crush the garlic, lemongrass, ginger, pepper and five spice to a paste. Then add remaining wet ingredients.
Brush the paste over the venison steaks on both sides, cover and leave for a few hours, ideally overnight. Remove from fridge half an hour before cooking.
Make your dressing, by combining all of the ingredients in a small bowl, whisk well.
To make the salad. Use a y shaped vegetable peeler to peel the courgette into long strips then finely slice into matchsticks. Carefully cut the papaya into long slices.
Stir in the chopped herbs and add the majority dressing. Reserve a little for the steak.
Shake excess marinade off the venison steaks. Season with salt and pepper just before frying.
Heat 1 tbsp oil in a frying pan, and fry for 2 minutes on each side (I like to serve my steaks medium rare). Leave for 5 minutes then slice thinly.
To assemble, arrange slices of venison steak on a plate drizzled with the remaining dressing. Serve with the papaya salad. Finish with chopped peanuts, fried shallots and the remaining chopped mint,coriander and basil.